Karzdaar Rahenge Ham Us Hakeem Ke,
Jisne Dava Mein Unka Deedaar Likh Diya.
कर्ज़दार रहेंगे हम उस हकीम के,
जिसने दवा में उनका दीदार लिख दिया।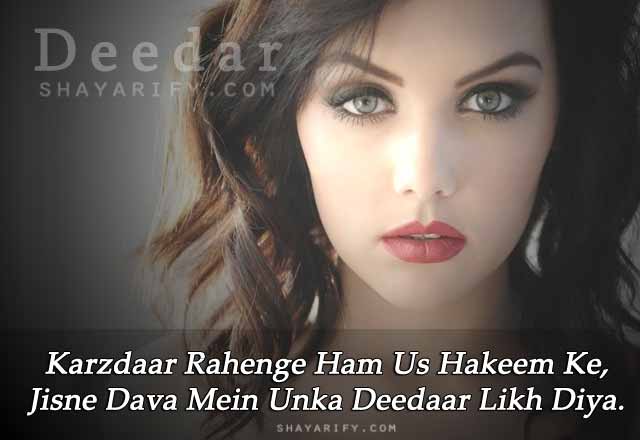 Sone Laga Hun Tujhe Khwaab Mein Dekhne Ki Hasrat Le Kar,
Dua Karna Koi Jaga Na De… Tere Deedar Se Pahle.
सोने लगा हूँ तुझे ख्वाब में देखने कि हसरत ले कर,
दुआ करना कोई जगा ना दे… तेरे दीदार से पहले।
Roj Deedar Ho Chaand Ka Ye Jaruri To Nahin,
Beparda Ho Mulaqaat Unse Ye Jaruri To Nahin.
रोज दीदार हो चाँद का ये जरूरी तो नहीं,
बेपर्दा हो मुलाक़ात उनसे ये जरूरी तो नहीं।
Kuchh Nazar Aata Nahin UsKe Tasavvur Ke Siva,
Hasrat-E-Deedar Ne Aankhon Ko Andha Kar Diya.
कुछ नज़र आता नहीं उसके तसव्वुर के सिवा,
हसरत-ए-दीदार ने आँखों को अंधा कर दिया।
Kya Khoob Hoga Jis Din Tera Deedar Hoga,
Ek Aashiq Ke Liye Isse Bada Uphaar Kya Hoga.
क्या ख़ूब होगा जिस दिन तेरा दीदार होगा,
एक आशिक के लिए इससे बड़ा उपहार क्या होगा।
Ek Baar Aaj Phir Khudkhushi Ki Hamne,
Teri Gali Se Nikle Aur Tera Deedar Ho Gaya.
एक बार आज फिर खुदखुशी की हमने,
तेरी गली से निकले और तेरा दीदार हो गया।