जरा सा हट के चलता हूँ ज़माने की रिवायत से,
कि जिन पे बोझ डाला हो वो कंधे याद रखता हूँ।
Jara Sa Hatt Ke Chalta Hoon Zamane Ki Riwayat Se,
Ki Jinpe Bojh Dala Ho Wo Kandhe Yaad Rakhta Hoon.
ज़मीं पर आओ फिर देखो हमारी अहमियत क्या है,
बुलंदी से कभी ज़र्रों का अंदाज़ा नहीं होता।
Zamin Par Aao Fir Dekho Humari Ahmiyat Kya Hai,
Bulandi Se Kabhi Zarron Ka Andaaza Nahi Hota.
हादसों की ज़द में हैं तो क्या मुस्कुराना छोड़ दें,
जलजलों के खौफ से क्या घर बनाना छोड़ दें?
Haadson Ki Jad Mein Hain To Kya Muskurana Chhod Dein,
Jaljalon Ke Khauf Se Kya Ghar Banana Chhod Dein.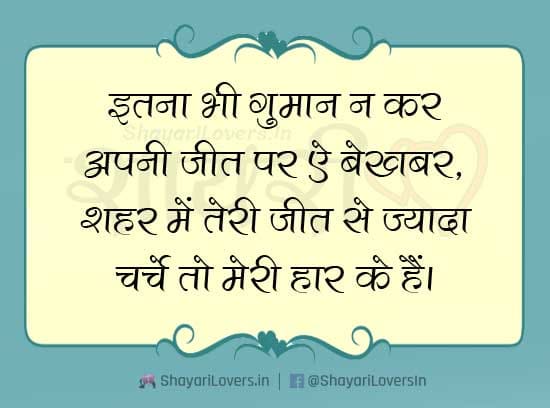 इतना भी गुमान न कर अपनी जीत पर ऐ बेखबर,
शहर में तेरी जीत से ज्यादा चर्चे तो मेरी हार के हैं।
Itna Bhi Gumaan Na Kar Apni Jeet Par Ai Bekhabar,
Shahar Mein Teri Jeet Se Jyada Charche To Meri Haar Ke Hain.
आँख उठाकर भी न देखूँ, जिससे मेरा दिल न मिले,
जबरन सबसे हाथ मिलाना, मेरे बस की बात नहीं।
Aankh Uthha Kar Bhi Na Dekhoon, Jis Se Mera Dil Na Mile,
Jabran Sabse Haath Milana, Mere Bas Ki Baat Nahin.